Here we are again, at the end of another workweek for most people, and a time to wind down through to the weekend.
You may have missed some juicy… stuff in all the hustle and bustle of the week, so I'm making sure you don't miss the inspiration and motivation these carefully selected quotes bring to your life.
They apply both to your life in general, and to you as a successful online marketer.
If you are or intend to be successful online, take your business seriously – commit to doing everything you can to be a successful online marketing professional.
"Good things are coming down the road. Just don't stop walking."
~ Robert Warren Painter Jnr.
"If your life is cloudy and you're far, far off course, you may have to go on faith for a while, but eventually you'll that every time you trust your internal navigation system, you end up closer to your right life."
~ Martha Beck
"You can't just sit there and wait for people to give that golden dream, you've got to get there and make it happen for yourself."
~ Diana Ross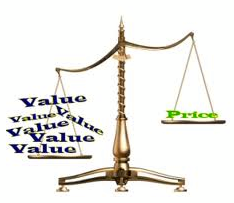 This is a great one to contemplate: what do you feel is more important – Price or Value? 
Drop a comment with your favourite quote and inspire us all!
Have a fabulously abundant weekend!
Tayo Dee 
Your Online Marketing Professional & Strategist!
PS: Want to follow a successful system? Check out what I used here….